Williamson County continues to go through the remnants of a winter storm that blew in Sunday, with freezing temperatures causing hazardous road conditions for Tuesday commutes. 
UPDATE (6:00 p.m.): After a wintery mess of a Monday, Williamson County and the surrounding areas should see some more snow and freezing temperatures Monday night heading into Tuesday morning. 
Nashville Severe Weather expressed optimism Monday evening that the past wave of sleet and freezing rain would turn into snow, a bit less dangerous in its accumulation. 
The National Weather Service predicted, per NSW, 1-2 for most of the county over Monday night, with parts of Spring Hill potentially getting a bit less as totals push more toward the lower end going toward Columbia. 
Temperatures overnight will dip into the teens, refreezing the ice and snow already on the roads and making Tuesday's commute another difficult ride in, with calls to stay home if possible likely to continue into tomorrow. 
UPDATE (1:45 p.m.): As Williamson County continues on with the week's winter storm, some impact closings have been made. 
Williamson County Schools and the Franklin Special School District will be closed Tuesday and Wednesday this week in light of the winter storm. 
Williamson County Mayor Rogers Anderson also has closed all county government offices on Tuesday, along with the W.C. Landfill and all convenience centers. 
The Judicial Center will be included in this, with all in-person general sessions or circuit/chancery court meetings canceled, per the county. Though, circuit judges are said to be in contact with any attorney who had a virtual hearing scheduled. 
Juvenile court hearings scheduled for virtual meeting will still take place. 
Williamson County Sheriff's Office put out a warning Monday afternoon, saying road conditions in the county continue to grow more hazardous as sleet continues to accumulate. 
"Road conditions in Williamson County, TN are getting even more dangerous as sleet continues to fall," the update read. "[WSCO] advises you to STAY HOME unless you have an emergency." 
In Spring Hill, another reminder was given from SHPD about driving conditions not being ideal, with an image shared of a tractor-trailer stuck on Saturn Parkway eastbound to Main St. (seen above). 
Nashville Severe Weather showed a model that had a dry spell setting in for the area as of around 1:45 p.m. until more snowfall started later in the day.
Also, due to the 'overwhelming' amount of treacherous roadways in the county, Williamson County's Office of Public Safety has pulled its list of impacted roads in the county, urging residents to stay home.
"Due to the overwhelming amount of iced roadways across the County, we have pulled down our road impact list," the note read.
"Individuals should take extreme caution when venturing outdoors. Public safety agencies across the County continue to urge the community to stay home."
The Williamson County Office of Public Safety is also urging citizens who do venture outside to use caution to prevent injury during the winter weather.
Citizens are urged to dress appropriately when leaving their homes, and to use salt to melt ice on their steps or walkways to prevent falls. Sand and cat litter can also be used to create traction on the slick surfaces.
Citizens should also be aware of the threat of tree limbs or powerlines that could become covered with ice and create new hazards. The county also recommends that citizens be weather alert while indoors, keeping phones charged, as well as any medical device that may require power, and check on neighbors who may need assistance.
The Williamson County Emergency Alert System is also free to sign-up and will issue alerts between the county and other local municipalities including Spring Hill, Fairview, Thompson's Station, Nolensville, Franklin and Brentwood.
The weather is even impacting previously canceled sports: a makeup game between the Ravenwood and Summit basketball teams has been called. 
Continue to follow with the Home Page for updates on the day's inclement weather. 
UPDATE (11:40 a.m.): Nashville Severe Weather says that freezing rain is settling in on some parts of Williamson County and could prove worrisome. 
As of 11:23 a.m., NSW says that it's looking like sleet right now for most of the county, though in eastern Williamson, freezing rain mixes in. 
"Mostly sleet reported," a Twitter message reads. "That's a good sign. Freezing rain mixing in through eastern Will Co, that's not what we want. Sleet/Freezing rain mix also possible. Expecting several hours of frozen precip. Travel unsafe." 
Freezing rain concerns will persist through the day for the county, which can cause for hazardous travel and power outages. 
"In Davidson & Williamson Counties (the only places we are ever talking about), it is possible some of us will get snow (NW), some almost all sleet (the middle), the SE (freezing rain/more ice)," an update from the trusted weather resource shared roughly an hour ago. 
The service cites the NOAA's Storm Prediction Center as saying the county stands in line to receive freezing rain Monday as the week's winter storm continues. 
"SPC has outlined most of Will Co and SE Nashville as an area of concern for freezing rain," a Twitter message reads, citing the SPC. "'Current observations/models indicate that areas of freezing rain have already begun south/southeast of Nashville, and heavier precipitation will begin in the Nashville area in the next hour or so. 3-6 hours of freezing rain is expected.'
"This could be the ice storm that cuts off your power. Charge your phones. Do not be anywhere you can't be stuck at for a long time. Freezing rain is horrible. You can't drive in it." 
Below is a map from Nashville Severe Weather illustrating the threat of freezing rain.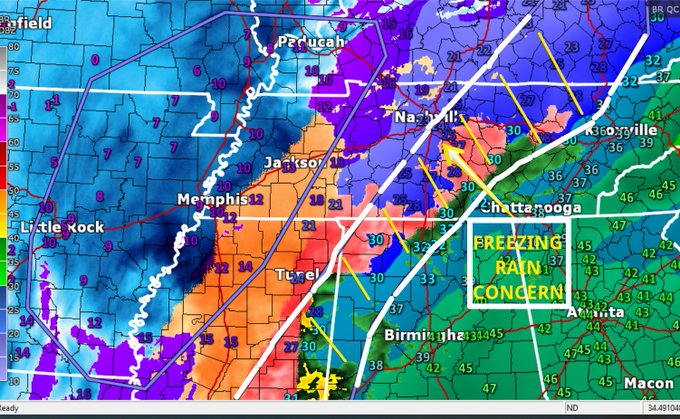 A winter storm warning remains in effect for middle Tennessee through Tuesday morning, with temperatures dropping into the teens Monday night in Williamson. The precipitation will likely make for difficult road conditions on Tuesday, though no precipitation is expected through the day. 
Nashville Severe Weather cautions that power outages could follow as wintry mix continues throughout the day. 
"HRRR model predicts sleet and freezing rain (mostly sleet) to continue until around dusk, then maybe a brief switchover to snow," a message reads. "Do not just hope you don't lose power and do nothing. Plan to lose power, then hope you don't."
Original story follows: 
2020-21's winter season saved its biggest weather wave yet for February, as snowfall and icy roads surrounded Williamson County Monday morning. 
After a winter storm warning was issued for Williamson and surrounding areas starting Sunday evening, county residents woke up Monday to freezing temperatures, icy roads and a few inches (anywhere from 2-5 inches in the area) of snow, complicating any required commute. 
A running list of icy roads to avoid or travel carefully can be found here via Williamson County's Office of Public Safety.
Temperatures were in the low 20s Monday morning with sleet in Franklin and snow showers in Brentwood around 6 this morning. Conditions were cloudy in Nolensville and Spring Hill. 
The City of Brentwood shared an image (seen above) of a snow plow working on a local street to pave the way for any potential traffic. Though, the city cautions against any with low volume recommended. 
"All the main roads in Brentwood have been plowed and salted," a message of Twitter showed. "Now it will require a combination of light traffic and day light to really get the salt to start dissolving ice. Please do not travel if you do not have to today.
Franklin Police shared a common recommendation from the area's emergency services Monday morning, to stay home if at all possible due to the driving conditions from Monday's winter storm. 
"Despite the hard work of our Street Dept., area travel remains hazardous," FPD shared on Twitter. "Already slick conditions will worsen throughout the day. If possible, you should stay home."
The Williamson County Sheriff's Office echoed the same message from FPD. 
"Ice and some snow cover most roads this morning in the county," the WSCO Twitter message read. "Deputies are reporting main roads are in poor condition. Secondary roads are even worse. We are advising you to stay home unless it is absolutely necessary for you to be out."
Forecasts are calling for a wintry mix through the day Monday, with, per the National Weather Service, "freezing rain and sleet before 4pm, then snow. High near 25.
"North wind 10 to 15 mph, with gusts as high as 20 mph. Chance of precipitation is 100%. New ice accumulation of 0.1 to 0.2 of an inch possible. New snow and sleet accumulation of 1 to 3 inches possible." 
Some improved conditions may await with more sunlight around 10 or 11 a.m., per Nashville Severe Weather, but a new winter front could be starting around that time. 
The winter conditions were severe enough to where Williamson Medical Center suspended all clinics and canceled all outpatient and elective procedures on Monday, and the Nashville Airport had most all of its flights called off or delayed due to the snowy conditions. 
Williamson County Parks and Recreation had also closed its recreation facilities for Monday, and Franklin Transit suspended its operations as well. 
The county's solid waste convenience centers are closing at 3 p.m. Monday. The main Franklin Library is closed Monday, too. 
Many area schools were already closed Monday, but that could extend into the week if conditions do not improve. 
As of 6 a.m. Monday, a new front of sleet was moving into southern Williamson County, per Nashville Severe Weather. 
A view from Fox 17's traffic reporter Samantha Russell showed an image of a layer of winter mix at the intersection of Crockett Road and Aberdeen Drive in Brentwood, a recurring image throughout the county of hazardous conditions. 
Russell showed a car off the road on 1-65 northbound between Brentwood and Oak Hill, with the Tennessee Department of Transportation working through the morning to make roads as safe as possible for travel. 
Below is a list of all roads impacted in the area by ice, per WillCo's Office of Public Safety, as of 11:25 a.m. The list has since been pulled to reflect the 'overwhelming' amount of roadways affected by the day's storms. 
| | |
| --- | --- |
| Carters Creek / Southall Rd | Ice |
| Natches Trace/ Pinewood Road | Ice |
| W Main ST / Downs Blvd | Ice |
| Thompsons Station Rd W / Old Thompson St Rd | Ice |
| Davis Hollow Rd / Peach Hollow Rd | Ice |
| Owen Hill Rd / Arno Allisona | Ice |
| Buckner Rd / Buckner Ln | Ice |
| Dr Robinson / Town Center | Ice |
|  Main St | Ice |
| Sneed Road | Ice |
| Del Rio | Ice |
| Nolensville Rd | Ice |
| Hwy 100/ Old Franklin Road | Ice |
| Liberty Pike | Ice |
| Manley Road / Beachcreek Road | Ice |
| Spicer Ct | Ice |
| Old Hillsboro Rd | Ice |
| Lewisburg Pike | Ice |
|  Horton Hwy | Ice |
| Kidd Rd | Ice |
| Hunting Camp Rd | Ice |
| Campbell Station Rd | Ice |
|   Championship BLVD | Ice |
| Temple Rd | Ice |
|  Spencer Creek Rd | Ice |
| Carters Glenn Place | Ice |
| Leipers Creek / I840 | Ice |
| Sneed Rd | Ice |
| Flat Creek Rd | Ice |
| Overbey Rd / Old Franklin Rd | Ice |
| Hwy 96/ I-65 | Ice |
| Carl Rd | Ice |
| West Harpeth | Ice |
| Manley Rd/ Beechcreek Rd | Ice |
| Bailey Rd | Ice |
| Bear Creek | Ice |